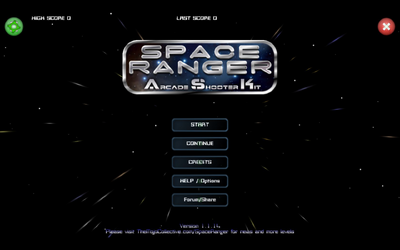 A short explanation of the Main Menu
Starts the game - this will take you to the Mission Selector.
This will continue your last game, starting from the last level you played. Only visible when a game is in progress.
Opens the game credits window. Press left mouse to scroll the text faster.
HELP/OPTIONS
Edit
This will take you to the options screen - which is the same as the pause screen.
Online Manual
Edit
A link to this Wiki.
Buy The Game (Free version)
Edit
A link to the Wiki Download page.
PAUSE BUTTON
Edit
This button will pause the game and show the help/options menu.
QUIT BUTTON
Edit
This button quits the game. It is not visible in the Windows 8 App version, as Microsoft doesn't allow it.
HIGH SCORE
Edit
Shows the High Score of the last mission played.
LAST SCORE
Edit
Your last score.